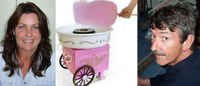 NEW RULES

Here are the rules: 1.Post 30 comments (2 pages
2. Every set will be thumbed till 5
.CLEAR and NOTIFY the person/people you thumb to 5!
3. Pls wait until 3 people post their comments, and then, you can post more!!!!
4. You are free to post whatever you like, as long as you post exactly 30 comments!