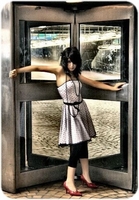 Led by Sonya | 44 members



The Revolving Door 30/5
Feel free to invite people you know and trust to join. Most of you know the ropes, but to those who don't:
Leave a t/p (thumbing & posting) marker to mark your spot in the Que. Thumb ALL comments to 5 (front to back). Clear & Notify the person you thumb to 5 (including the herd link). Post a comment in the C/N Topic stating who you turned to 5, and who you C/N. Post your own set of 30 comments. (wait your turn in the Que if applicable)
This is very easy.........
** You must c/n (and post in the c/n topic)
(( This keeps the rotation moving ))
** Please include the link for the herd in your notification
(( There is a faster return rate when the link is included ))
** Maxed posts must be cleared & please notify that person
** If you max giving on the last person.. meaning the person you would be turning to 5, you can still post your spam. (I am allowing this because you have thumbed almost the entire herd, and you deserve your thumbs) It does not happen that often anyway.
** There is NO UPDATING ALLOWED ** Return to t/p only after you have been notified that you are cleared.