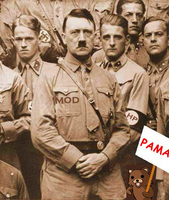 Únete a la lucha para detener el abuso moderador!
Joindre à la lutte pour mettre fin à l'abus modérateur!
الانضمام الى الكفاح لوقف اساءة استعمال وسيط!
Присъединете се към борбата да спрат злоупотребата модератор!
加入扑灭停止主持人滥用!
Pridružite se borbi za moderatora prestati zlostavljanje!
Zapojte se do boje k zastavení zneužívání moderátora!
Deltag i kampen for at stoppe moderator misbrug!
Deelnemen aan de strijd te staken moderator misbruik!
Liity taistelua pysäkki valvojaksi väärinkäyttöä!
Nimm den Kampf zu stoppen Moderator Missbrauch!
Γίνετε μέλος του αγώνα για να σταματήσει η κατάχρηση moderator!
लड़ाई में शामिल होने के दुरुपयोग को रोकने के लिए मॉडरेटर !
Partecipa alla lotta per fermare gli abusi moderatore!
モデレータを停止する戦いに参加するの乱用!
운영자의 남용에 참여 싸움을 중지!
Bli med i kampen for å stoppe moderator misbruk!
Przyłącz się do walki w celu powstrzymania nadużyć moderatora!
Junte-se à luta para impedir abusos moderador!
Inscrie-te lupta pentru a opri abuzul de moderator!
Gå med i kampen för att stoppa moderator missbruk!
Moderatör suistimalini durdurma savaşına katıl.
Neem deel aan die geveg om moderasie misbruik tot stop tesit
¡ﺯﻑﺅﺢﯝ ﮡﺉﻋﯝﮡﺯﻵﺉﻍ ﻏﺉﻋﻑ ﺉﻋ ﻋﺨﺱﺏﯓ ﺯﺨﻋ ﺹﺏﺉﻉ
Join the fight to stop moderator abuse!