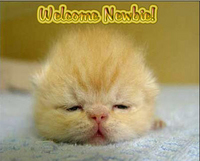 Be sure to browse through the herd discussions - much valuable information there!
There are two discussion topics all users of HP should be familiar with. Please take a few minutes to look at them - Basic HP Rundown and User Bannings: The Breakdown
A place open to all newbies to HP where they can get tips from experienced HP'ers as to how to get the most fun from it. Also, where they can share their experiences with one another. Newbies is open to all new people to HP.
When you first come in it is good etiquette to thumb the one page you enter on, no need to do more - this is a place for learning, sharing, a bit of fun and chat. It's not about thumbing. OK. Thumbing the first page is often called "thumbing the line" in chat herds. Then, let people know you are here with whatever greeting you like.
After you have done that, explore, page back to see what's been discussed, or to see if a question you have has been answered. Look at the discussions, there are multiple pages of discussions now, remember, join in the chat - whatever benefits you the most when in here.