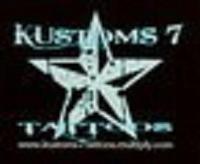 A gathering ground for all peeps in SG who r marked with ink or aprreciates Tattoos to mingle, get to know each other, opinions, recommendations, pass news of SG Tattoo scene or just simply wants ur voices to be heard! Come on in... Dun be shy... We're all in this together for the long Ride... Tattoos for life...
Oh! And feel free to post Pictures Yeah! Cheerios!
http://www.kustoms7tattoos.multiply.com/
Say Hi to Jappie!