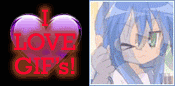 JOIN FREE! and you have permanent access to this herd, which is filled with thousands of animated GIFs perfectly sized for use in your shops.
Also in this herd is software you can use to make your own animated GIFs and tips and tricks on how to use it to get the best results.
You must be 18 to use this herd.
This herd is now a PLUG for my new site,
I Love GIF's!