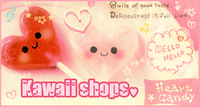 Kawaii shops herd's intention is to get all the people who like kawaii things together, whether you have a shop full of kawaii items or whether you simply love shopping! This is the herd that makes this idea come true.
If you have cute items in your store, advertise them in the discussion board or main talk.
Feel free to join a conversation and start a new one.