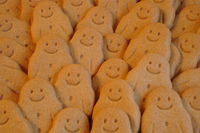 From the root or the bottle.....redhead is a state of mind!!!
Auburn, copper top, red head, strawberry blond or just plain ginger....you are of a dieing breed.
With only 1% of human pets to be of this unique colour.........pets, admirers and owners of the ginger thatch unite!
Don't just follow any old crown join this herd, graze with creatures of exceptional taste and beauty.
Plus!! "THE REDHEAD OF THE MONTH" picked as leaders
Please visit the official redhead solidarity shop!!